What Can We Help You Build?
American Western Steel is a top metal building provider in Victoria, TX. We offer custom steel buildings to meet the needs of our clients. It is a common misconception that there are standard sizes for metal buildings. No matter what the size, each building is custom prefabricated for each specific client. This is very beneficial for when an architect designs a commercial building or residential barn home, we can prefabricate the building to the exact dimensions of the plans. We are able custom design each building for our clients. We even can provide 3d renderings of your project. At American Western Steel, we provide metal buildings as well as turnkey steel building construction.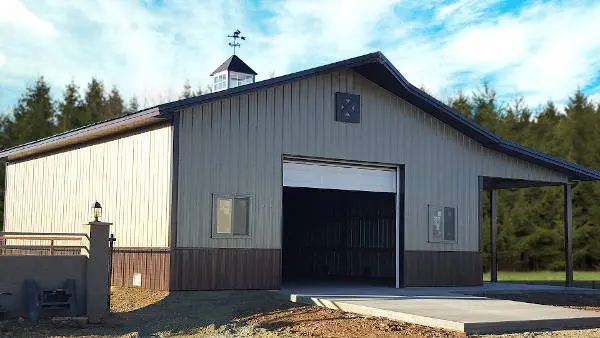 Metal Building Contractors
American Western Steel is a turnkey steel building contractor. As a local metal building distributor, you know you will get the best price for our turnkey services. If you hire another contractor, there is a good chance they will be purchasing your building from us. We provide residential and commercial steel building construction. Whether you are looking to build a barndominium, a shop for your backyard, a commercial strip center, or a large church, we are the experienced metal building contractor for you. Give us a call today and speak with one of our professional project managers today! 
We Offer a Variety of Steel Buildings!
At American Western Steel, we cater to industrial steel building construction. We custom design crane buildings directly for our clients. In addition, we are also overhead crane dealers. As a direct distributor, you can be sure you are buying directly from the source and not have to pay mark-ups from other local contractors. We design/engineer all of our crane buildings, making sure our clients are getting exactly what they are looking for and that their crane building meets all governing building loads and codes. Call us today for a free consultation!
Looking to build a metal barn or shop? AWS has the right building for you. Just let us know the dimensions, location of the project, accessories, and end use, and our professional project managers will provide you a quick quote for your project. We have custom metal building packages designed directly for our residential clients looking  to construct agricultural metal buildings. Contact us today to find out more information about our steel building kits. 
Metal Roofing Contractors
Does your home, shop, or office need a metal building roof? As a direct metal roof distributor and experienced construction company, American Western Steel is the top local choice for your roof. Whether you are building a new home or replacing your current roof, we will custom design a metal roof for you. We provide a variety of metal roofing materials from PBR paneling to standing seam. Give us a call today and speak with one of our metal roofing project managers.