5 Benefits of Steel Builings
American Western Steel Turnkey Steel Buildings
Here at American Western Steel, we provide Texas, Louisiana, Mississippi, and even South America, with the highest quality prefabricated steel buildings. When you buy a prefab building from American Western Steel, you don't have to shop around for anyone else; our team handles the entire process from start to finish. But is it really worth it to invest in a metal building, especially here in Texas? Not only can you select a steel building of nearly any size, American Western Steel can turn the inside into just about anything as well. Want to set up your building as a church? We can help. Family run restaurant? No problem. Not only do you get a huge level of customization with steel buildings, but there are also these 5 added benefits.
Weather Resistant
Between flooding problems and hurricanes, we're no strangers to extreme weather here in the greater Houston area. Your American Western Steel prefab building can stand up to most extreme weather, even ones that rarely, if ever, effect us. Steel buildings stand up better in high winds, earthquakes, lightning strikes, and even fire, compared to other building materials. As an added benefit, prefab buildings also have less problems with mold, termites, and other pests.
Less Foundation Problems
Houston's soil is pretty unique. It's mostly clay based (one of the reasons that Galveston Bay's water is so murky), and that spells trouble for building foundations. Every season, the clay soil under your building swells and shrinks, depending on the weather and temperatures. This can be a nightmare for traditional buildings, but steel buildings don't experience the same issues. Our prefab buildings require less framing than wooden framed buildings. Less framing means less weight resting on your foundation. There's no need to worry about settling, warping, or cracking with a steel building from American Western Steel.
Faster Build Times
One of the best things are prefab buildings is that they take less time to erect and put together than traditional building materials. Every piece of your American Western Steel building has been expertly engineered to fit perfectly together, so once your building arrives, construction can begin immediately, without the need of cutting and sizing. Not only does this save time, but it can also save you money as well.
Easy Maintenance
Steel buildings don't require the same upkeep and maintenance that traditional buildings do. There's no need to worry about mold, rotting wood fixtures, chipped and peeling paint, of replacing your roof's shingles. Clean up on your building's exterior can be a simple as a hose down, or a quick pressure washing for those pesky areas that don't seem to want to be cleaned. There's never any need to worry about termites and the cost of termite damage repair, either!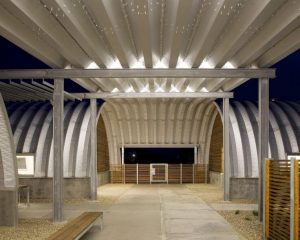 Recyclable
Steel buildings are full of ways to save money when you're still using them, but they can also put some money back in your pocket when you're done with the building. Since steel can be recycled over and over again without loosing any of it's strength or durability, it makes worth more than most other metals (which tend to lose strength in the process). Once your building has reached the end of its usefulness, trade it in and pocket the money.
AWS Builds Quality Steel Buildings
If you're looking for the perfect steel building from Texas to the Mississippi River, American Western Steel can help. Contact us today, and we can get started of building you a personalized quote based on your needs. Don't trust just anyone when it comes to your steel buildings, trust the experts at American Western Steel.